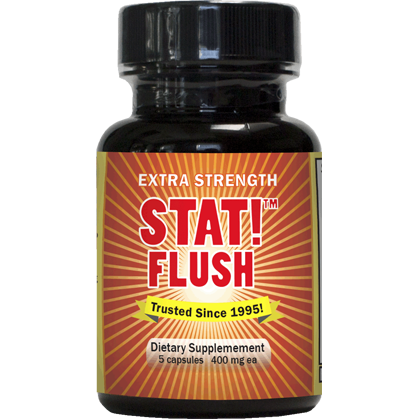 Stat Flush Body Cleansing Detox Pills 5ct
STAT!™ Flush Detox capsules help your body rapidly cleanse itself of unwanted toxins. Each day many of us are exposed to toxins in the air, water, and food we eat.  Most people will accumulate these toxins over many years and be unaware of the harmful effects they can induce.  It is ideal to cleanse the body of these toxins on a regular schedule, however most people do not have the means or time to do so.  Our five capsule formula is powerful enough to fully cleanse the body of these toxins in one dosage.  You can maintain good health and a cleansed state with periodic detox regiments from STAT!™ Detox.
Substances such as tobacco smoke accumulate primarily in your body's fat cells.  Exposure to toxins, even secondhand smoke, can cause detectable levels to accumulate in your body.  Traces of these types of toxins can remain in your body for many months.  STAT!™ Flush will cleanse your blood, urine, and saliva of these toxins for up to six hours. Substances that do not accumulate in the fat cells are removed permanently.
If you feel you have been exposed to unwanted toxins, STAT!™ Flush Detox will detoxify by helping your body remove a substantial quantity of these toxins quickly.  When used according to directions, STAT!™ Flush Detox effectively helps your body eliminate almost all traces of toxins.
Of course, proper usage is important.  For best results, avoid exposure to any type of toxin for at least 48 hours prior to using STAT!™ Flush.
NOTE: For women over 180 lbs, and men over 220 lbs, we suggest you use (2) TWO BOTTLES.
Disclaimer
These products have not been evaluated by the Food & Drug Administration. This product is not intended to diagnose, treat, cure or prevent any disease. Do not use this product if you are pregnant, breast-feeding, have kidney or gallbladder disorder or disease. If you experience diarrhea, dizziness, or cramping discontinue use of this product. If symptoms persist, seek medical assistance. We do not condone or encourage illegal activity. You understand and agree that our products are not to be used for any illegal purposes, including use for lawfully administered drug tests.