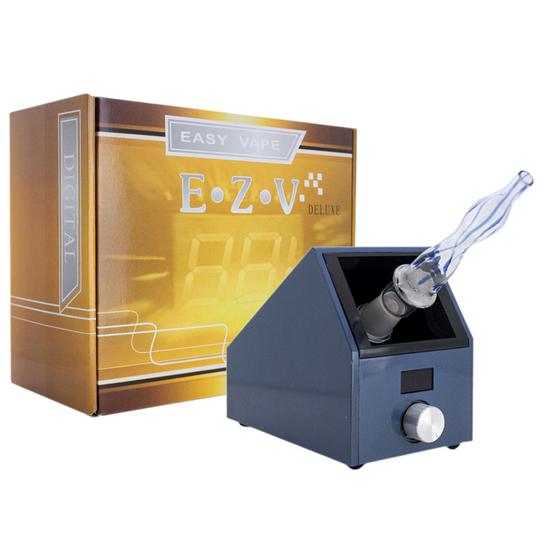 Easy Vape EZV Deluxe Vaporizer
Features:
For Dry Herb
Glass Mouthpiece
Hands-Free Glass Wand
Ceramic Heating Element
30" Surgical Grade Silicone Tube
Temperature: 200

°F

-400°F
Easy Vape Deluxe Dry Herb Vaporizer
The Easy Vape Deluxe desktop vaporizer is an efficient table top unit. It is very lightweight and affordable yet very durable. It has a digital temperature display read out which helps you easily manage the temperature precisely. 
Just like the name says, this desktop herbal vape is meant to be an easy vape. The glass whip is 18mm and changes color as the residue builds up. 
The best temperature for herbal vaporization between 320°F to 392°F. 
How to Use the Easy Vape Deluxe Vaporizer
To start, make sure the 2-amp fuse is placed into the back of the easy vape. Plug it in and turn the vape on by pushing the activation knob in.
Set the temperature to the highest level. Allow it to remain on for a few minutes. Turn it off to let it cool down and place your ground dry herbs in there. 
Turn your knob clockwise to set your temperature to your desired level. Check to make sure the heating element is red in color.
When the vapor is ready, start inhaling from the whip.